In September 5,038 residential properties were reported sold in the greater Toronto area. This is the lowest number of recorded sales for September since 2001 when only 5,021 properties were sold. This data is even more dramatic and the decline is more striking when correlated to the greater Toronto area's population. In 2001 Toronto's population was almost 4.7 million people. Currently, it is approaching 6.4 million.
There is no mystery as to why sales have decreased so dramatically. In March of this year 10,871 properties were reported sold. This was not a monthly record. The record for monthly sales is March 2021, when 15,627 sales were recorded. The decline in sales can be directly attributed to the rise in the Bank of Canada's benchmark rate. In early March it was 0.25 percent. It's now 3.25 percent and expected to rise once again by the end of October when the Bank provides its analysis of the economy and its views on inflation.
The basic market data for September is set out in the chart below.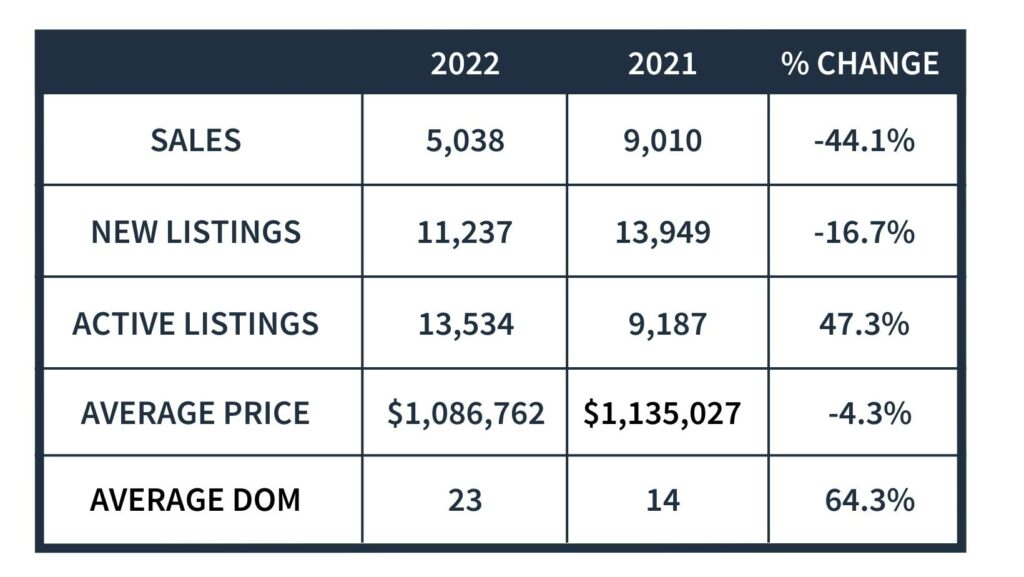 As mortgage interest rates have continued to increase, more than double since March, sales and average sales prices have declined. Current 5 year fixed mortgage interest rates hover around 5.5 percent. Potential buyers however must qualify at 7.5 percent when mortgage stress testing is applied. The increase in mortgage interest rates have effectively made housing even less affordable than it was in February of this year when the average sale price for all properties sold in the greater Toronto area was $1,334,093, almost 20 percent higher than it is today.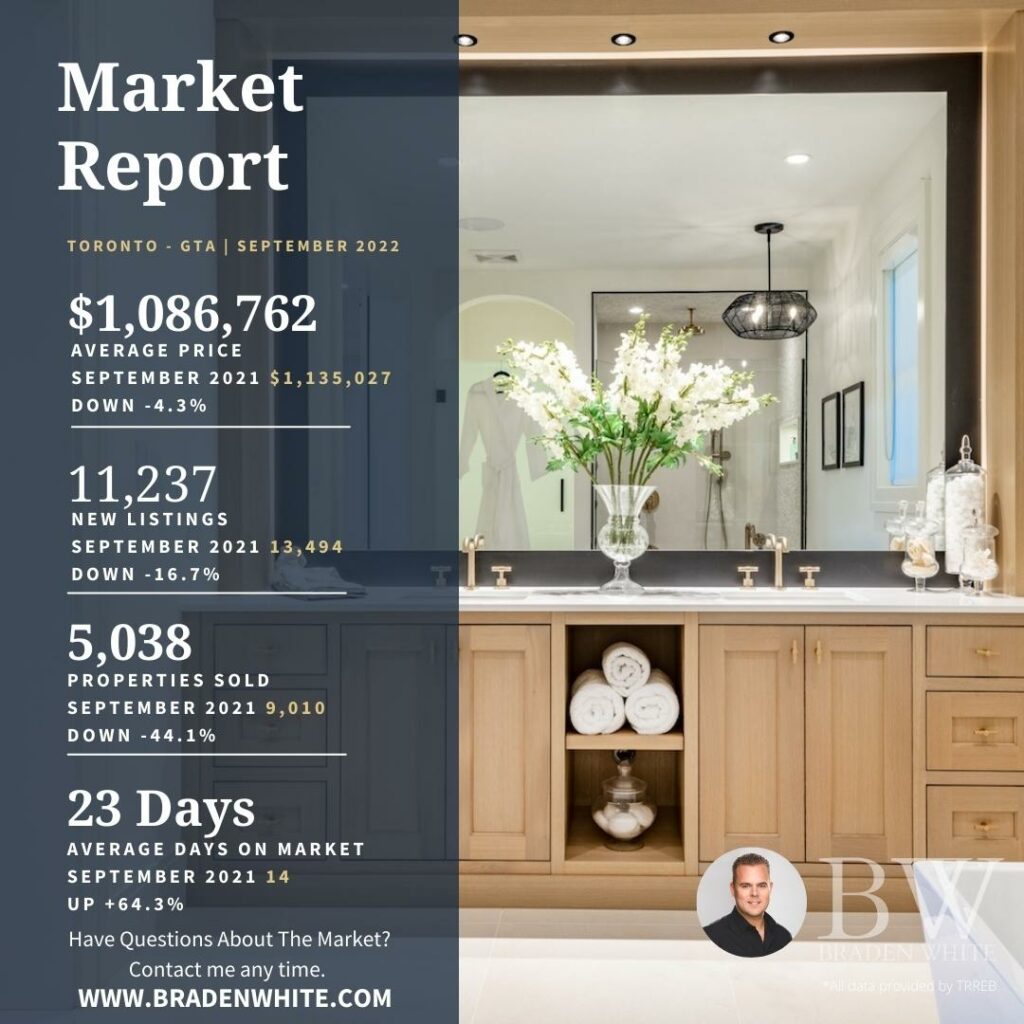 The decline in average sale prices is, except for condominium apartment sales, universal. Both in the City of Toronto and in the 905 region, prices for detached, semi-detached, and townhomes decreased on a year-over-year basis. Condominium apartment sales prices, the least expensive housing in the greater Toronto area, increased by 3.4 percent in the City of Toronto and by 3.3 percent in the 905 region. In central Toronto, where most of the greater Toronto area's condominium apartments are located, the average sale price came in at $827,478. Notwithstanding the overall decline in average sale prices over the last six months, the least expensive housing form in the greater Toronto area has not become less expensive.
Sales prices are now consistently lower than asking prices. That's because buyers have more choices and multiple offer competitions are the exception and not the norm as they were during the height of the pandemic. In September the average sale price compared to the average list price was 98 percent. In February and March, all properties sold (on average) for more than 110 percent of the asking price.
The only trading area that is bucking this trend is, once again, Toronto's eastern districts. In September, all properties reported sold in Toronto's eastern districts sold for 101 percent of their asking price and in only 19 days. Semi-detached properties sold for 104 percent of their asking price and in only 13 days. Multiple offer competitions are not unusual in the eastern districts, especially Riverdale, Leslieville, and the Beach, although they are nowhere near as frequent as they were prior to March of this year.
Unfortunately, there are no signs of relief for the rest of the resale housing market in the near future, although it does appear that average sale prices have stabilized and have even risen since July. At the beginning of September average sale prices in the City of Toronto were slightly over $1 Million. At the end of September, they were hovering around $1,080,000. Based on public statements made by the Bank of Canada in its crusade to reduce inflation, a further increase in the benchmark rate is expected in late October. The consistently increasing rates have had a negative financial and psychological impact on buyers. Consequently, we can expect a continuation of September's market trend right through to the end of 2022.
Have questions about the market, selling or buying?
Contact me any time. I'm happy to answer any questions you may have.
Prepared by Chris Kapches, LLB, President and CEO, Broker, Chestnut Park® Real Estate Limited, Brokerage.