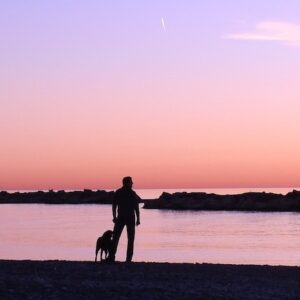 It's no secret that living by the beach has its perks. From the incredible sunrises to the sound of waves crashing against the shore, there are plenty of reasons why people choose to live near the water.  As someone who lives and works in The Beaches area, one of the reasons I love living in this beautiful community is the easy access to the beach and Lake Ontario. During the summer months, it's often easy to forget that you are in Toronto and not on vacation somewhere south of the border, for that very same reason, it's easy to forget about the dangers that come along with swimming in the Lake.
Unfortunately, as beautiful and inviting as the lake is, it's beauty is often a disguise for the dangers that come along with swimming in it. As you are likely aware, every summer there seems to be at least one or two drownings in Lake Ontario, if not more. In 2020, there was a total of 244 drownings in Ontario and many likely could have been prevented with proper water safety education and practice. As a parent of two young children, it breaks my heart to think about how the parents must feel when they receive the worst possible news a parent can receive. For that reason, I have put together this post in order to hopefully help prevent more innocent people from drowning.
I must first clarify that I am not a lifeguard or swim instructor. The information being provided in this blog has been sourced from other online sources and should be taken with caution. It is important to speak to a certified swim instructor or a lifeguard for more information about rip currents or to ask any questions you may have. For further questions or concerns, try speaking with the Lifesaving Society
For those of you who live in The Beaches or Upper Beaches or those of you who are experienced swimmers, you are likely already aware that rip currents are one of the biggest threats to swimmers in Lake Ontario. For those of you who are not aware of what a rip current is, the videos below provide good examples. Although you may associate rip currents with oceans and not lakes, it is a known fact that Lake Ontario and Woodbine Beach can produce some very strong rip currents as well as strong general currents. Unfortunately, there have been several cases of swimmers drowning due to the strong currents in the lake.
Below are three videos which explain what a rip current is and what you should do if you find yourself stuck in one. The 5 main takeaways relating to surviving a rip current are listed below but it is important to watch the videos in full.
Stay calm and conserve your energy
Do NOT try to swim towards the beach against the power of the rip current, you will lose
Let the rip current pull you away from the beach, just go with the flow and stay relaxed
Once the power of the rip has pulled you out and has subsided, swim horizontal to the beach, away from the rip current and then swim back into shore away from the rip current
Get help from a lifeguard if needed
If you see someone caught in a rip current, the best thing you can do is throw them something that floats such as a life jacket, noodle, paddle board, beach ball, boogie board, life saver, literally anything that floats  and get a lifeguard right away. Do NOT try to swim out to the victim to help as this increases the odds of you drowning which isn't helpful to the victim or yourself.
Hopefully this information is helpful. Make sure you share this important information with your children before the swim season begins.
Wishing you and your family a safe summer.