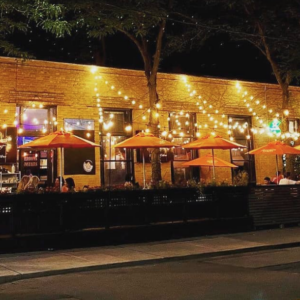 It's that time of year, the time of year when the air is getting warmer, the days are longer and people are excited about getting outside after a long winter. Spring and summer are the perfect seasons to enjoy a meal outdoors on a restaurant patio with friends and family. Whether you're looking for an early morning breakfast, lunch or a romantic evening of drinks under the stars, patios provide the perfect setting to relax and take in the fresh air while enjoying good food and company. As someone who lives and works in The Beaches area, I love the many different patio options available during the summer months. There are many restaurants in The Beaches with great patios and each one has its own unique charm. I've included my list of the top 10 patios in The Beaches (in no particular order).
#1 The Stone Lion
The Stone Lion is one of my personal favourites. With two separate spacious patios, outdoor TV's and great service and food, this is definitely one of the best patios in The Beaches.
1958 Queen Street E
Toronto, ON
416-690-1984
Instagram: @stonelionpub
#2 Riptide Beach Pub
Riptide Beach Pub offers an expansive patio with great food and drinks.
1980 Queen Street E
Toronto, ON
Instagram: @riptidebeachpub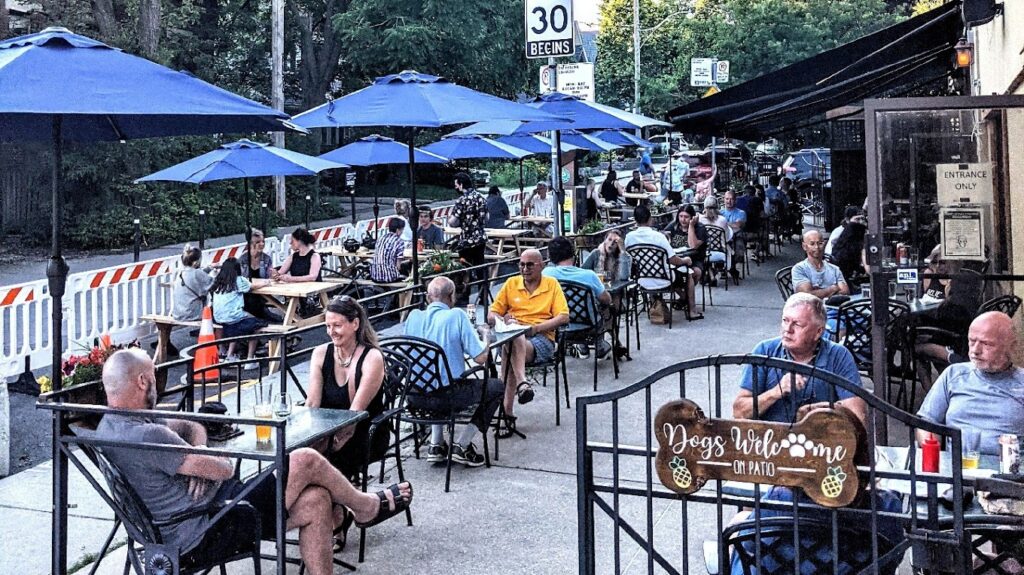 #3 Outrigger 
Whether you are looking for pleasant patio to enjoy a weekend breakfast on or you are looking to unwind over some evening cocktails, Outrigger has a great patio for both.
2232 Queen Street E
Toronto, ON
647-748-2232
Instagram: @outriggerto
#4 Beaches Brewing Company
The Beaches Brewing Company is a great place to enjoy some locally brewed beer as well as some delicious pub food. With an open air front and a street level patio that they set up each summer, it's a great place to enjoy the nice weather.
1953 Queen Street E
Toronto, ON
647-492-3224
Instagram: @beachesbrewco
#5 Gull And Firkin
Whether you are looking for a place to have dinner and drinks or you are looking for a lunch spot. The Gull and Firkin has a great patio that includes several outdoor heaters as the temperatures get cooler later in the year.
1943 Queen Street E
Toronto, ON
416-693-9337
Instagram: @gullandfirkin
#6 Murphy's Law
With one of the only rooftop patios in The Beaches, Murphy's Law is a great place to unwind and enjoy food and drinks while enjoying views of the city and the surrounding Beaches neighbourhood.
1702 Queen Street E
Toronto, ON
416-690-5516
Instagram: @murphyslawto
#7 The Beacher Cafe 
The Beacher Cafe is one of the most popular spots in The Beaches for brunch. During the spring, summer and fall months, they have a very picturesque patio arrangement that almost has a European feel. They serve breakfast/brunch, lunch and dinner and there is plenty of seating.
2162 Queen Street E
Toronto, ON
416-699-3874
Instagram: @thebeachercafe
#8 Toronto Beach Club 
Toronto Beach Club  is like being in LA, Toronto and the Mediterranean all at once. If you are looking for gourmet food and upscale atmosphere, this is your spot. Make sure you call ahead of visiting as you may require a reservation.
1681 Lake Shore Blvd E
Toronto, ON
416-694-8844
Instagram: @torontobeachclub
#9 Mira Mira Diner 
This stylish diner is a great place for brunch, lunch, diner or simply drinks on the patio with friends or family.
1963 Queen Street E
Toronto, ON
416-792-6472
Instagram: @eatmiramira
#10 Sauvignon Bistro & Bakery 
If you are a fan of french cuisine, this is the spot for you. With a charming patio and delicious food and drinks, you won't be disappointed.
1862 Queen Street E
Toronto, ON
416-686-1998
Instagram: @sauvignonbistro
Hopefully this list of the top 10 patios in The Beaches has been helpful and provides you with some options that you may want to consider trying.
Are you thinking about buying or selling in The Beaches or do you have questions about the current market? Contact me any time with your questions. I'm always happy to help.