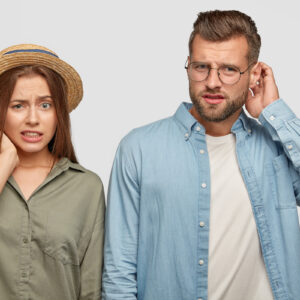 Some common thoughts that may go through your head once you've decided to list your home for sale and have considered holding an open house are:
Do I really want strangers walking through my home?
Are people going to make a mess of my home?
Will my belongings be safe?
Should I even have an open house?
These are all common and valid concerns, I mean, who really likes the idea of random people walking through their home and looking at all of their belongings.
Unfortunately, the reality is, if you want to sell your home for the most amount of money in the least amount of time, your home will require as much exposure as possible. Allowing open houses ensures that you have covered every base when it comes to marketing your home for sale, even if doing so makes you feel a little uneasy. By allowing open houses, you are not only allowing potential buyers through your home but you are also allowing word of mouth marketing to take place among people who have visited your home and their friends and network.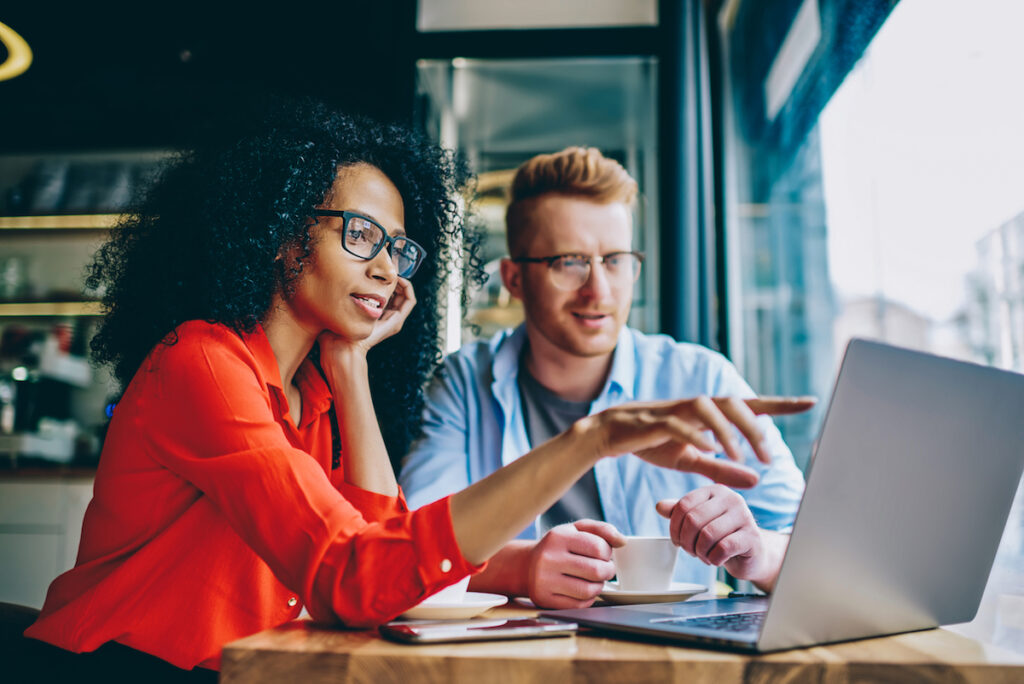 Now, as much as the thought of allowing open houses may be stressful, your realtor should take several steps to make the process as comfortable and successful for you as possible. An experienced realtor will often take the following steps below when conducting an open house at your home to ensure your home is secure, tidy and well marketed:
Massive open house signage in your surrounding area 
We all see open house signs while driving around the city on the weekend, but how many signs should your realtor put out? The answer is as many as possible. In order to ensure your home receives the attention it deserves and requires to sell, you need to make sure your home stands out from the competition. Putting out more signs than the average open house does just that.
Open house online & print marketing 
An experienced agent will go above and beyond simply setting up open house signs to market your open house event. It's important that you spread the word about your open house far and wide and to as many potential buyers as possible. There are a variety of ways of achieving this with the use of online and print marketing methods such as open house invites, flyers, online social media ads, evites  and other creative advertising methods.
"Please remove shoes" signage and requests 
A good agent will set up a "Please remove shoes" sign at the front entrance of your home and request all visitors to remove their shoes upon entering. This helps with reducing any potential mess or damage to your floors.
Sanitizing station 
As I write this blog, we are still dealing with the affects of covid19 and people are much more attentive to their hand hygiene than they were prior to the pandemic. Your realtor will likely set up a sanitization station near the front entrance of your home and ask visitors to sanitize their hands prior to viewing your home.
Limit Touching 
As mentioned above, due to covid19, many sellers don't like the idea of random people coming into their home and touching everything. With that being said, buyers will want to view as much of your home as possible. How else will they know if they can fit their attire into your primary bedroom closet? Your agent will likely ask visitors to limit the touching of surfaces while in the home and will assist by opening doors and closets for visitors as needed.
Keep an eye on visitors 
During all open houses, your agent will ask visitors to sign in to keep track of who visits your home and will also keep an eye on visitors during their visit. Keep in mind that there may be times when your agent won't be able to watch each and every visitor at the same time as they view different areas of your home. It is important to remove and or store any valuable items prior to allowing open houses or showings.
I've personally seen some agents install wireless wifi security cameras throughout the interior of the home while showing properties to my clients. Although this may be tempting to do, it often distracts potential buyers from focusing on your home's beautiful features as they are too busy with the thought of being watched and listened to. Remember, you want to make visitors feel as comfortable while they are in your home and help them visualize themselves living there, you want them to feel at home.
Prepare the home before doors open 
Your agent will come to your home prior to your open house beginning to ensure that all of the lights are turned on and that the rest of your home is in perfect showing condition. It's important to make sure you put away all dirty dishes, laundry, pet toys and food as well as any other clutter prior to the open house.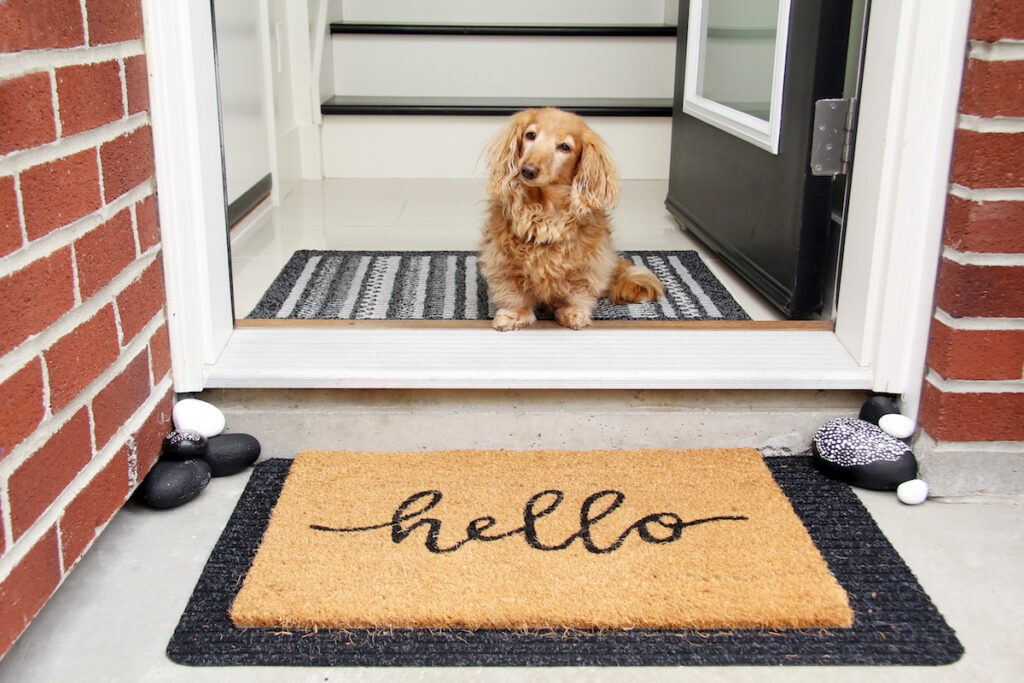 Although the thought of having an open house may be a little intimidating, with the help of an experienced realtor, the process should really be quite straight forward. By not holding open houses, you are limiting your exposure to potential buyers could very likely limit your final sale price and possibly extend the number of days that your home has to be listed for.
Are you thinking about listing your home or do you have questions about the current market?
Contact me any time with your real estate questions or to request a free home evaluation to find out how much your home may be worth. I'm happy to help and to answer any real estate questions you may have.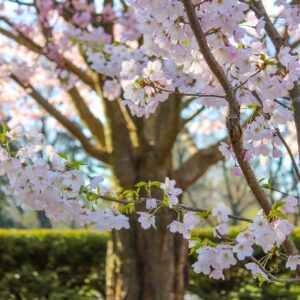 There were no surprises in the May residential resale market data. As a result of rising mortgage interest rates, a process that started in March, the number of properties sold has declined, and average sale prices have moved downward from the record-breaking highs of February.
During the month of February 9,052 homes were reported sold with the Toronto and area's average sale price coming in at an eye-popping, unsustainable, $1,333,399. In May 7,283 properties were reported sold, with an average sale price of $1,212,806. Since February, sales have declined by more than 19 percent, and the average sale price for all properties sold, including condominium apartments, has slipped by 9 percent.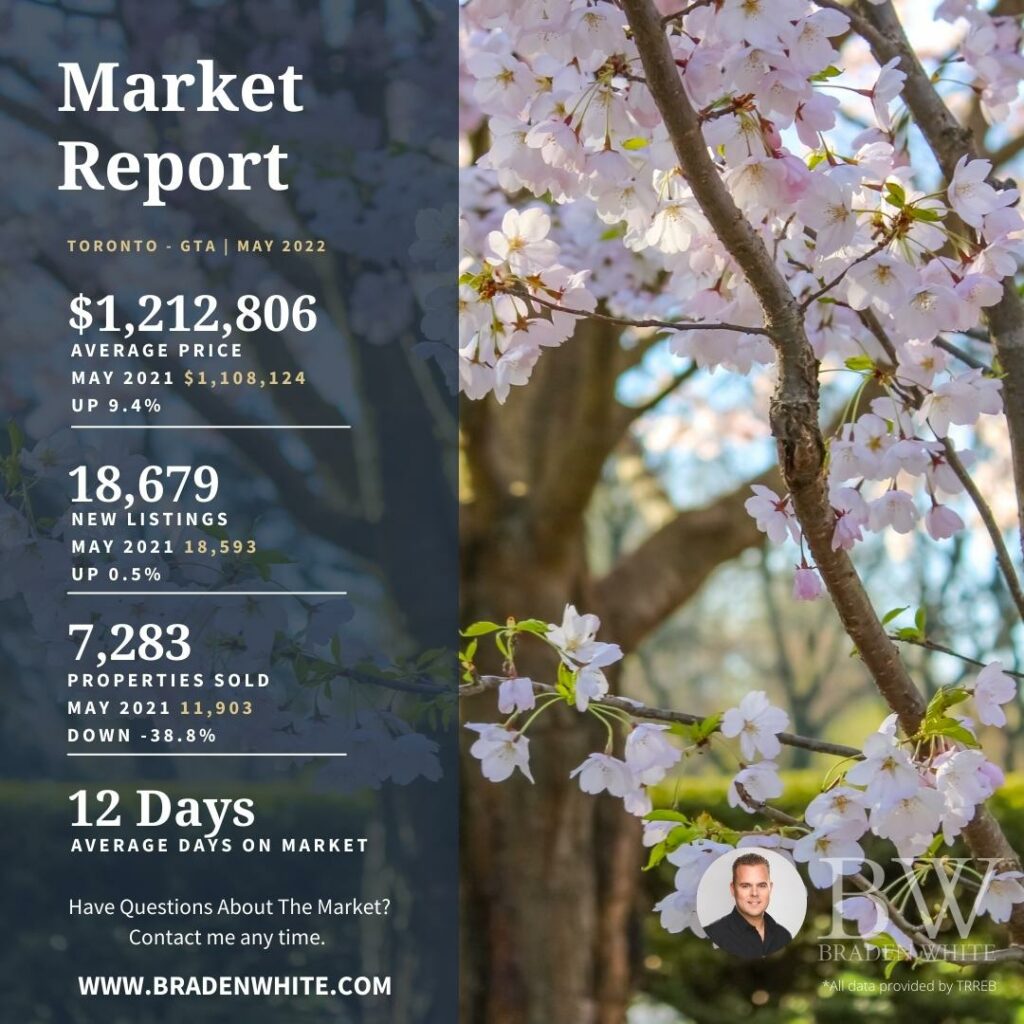 It should be noted that even with this decline, the average sale price in May remains 9.4 percent higher than that achieved last May ($1,084,124).
A notable shift in market dynamics is the change in activity in the 905 region as compared to the 416 (City of Toronto). Throughout the first two years of the pandemic, more sales were taking place and average sale prices were rising faster in the 905 region. This is no longer the case. During the month of May, the average sale price for all properties sold in the 905 region came in at $1,212,806, 1.7 percent less than the City of Toronto's average sale of $1,233,748. The ratio of sales has also shifted. Last year the 905 region accounted for 66 percent of all properties reported sold. This May, only 62 percent of all properties changing hands were in the 905 region.
These results are not surprising. As more of the greater Toronto area's population has been vaccinated against the Covid virus, and as the City of Toronto with its many amenities has opened up, the forces driving buyers to move to the 905 region, the need for more space, ground-level housing, and a sense of safety in less dense communities have begun to wane.
May's market performance should not be misinterpreted as a market "correction". Most of the economic factors that drove the resale market through the pandemic, and even before, are still at play, primarily the lack of supply and immigration to southern Ontario. Separate and apart from declining average sale prices and unit sales, the market continues to behave as it did before mortgage interest rates began to rise.
In May 18,679 new properties came to market, marginally higher than the 18,593 that came to market last year. All 7,283 properties that changed hands in May did so after spending only 12 days (on average) on the market, marginally higher than the 11 days it took for properties to sell last May. All properties reported sold, sold for 103 percent of their asking price, 104 percent in the City of Toronto. Semi-detached properties in the City of Toronto sold in only 9 days and at 111 percent of their asking price. Semi-detached properties in Toronto's eastern trading districts sold at 117 percent of their asking price and shockingly after only 8 days on the market.
This is not a market correction. Rather this data reflects a market attempting to come to grips with higher rates, with more to come. Higher mortgage interest rates have had a psychological as well as an economic impact on the market, particularly on those buyers that are mortgage-rate sensitive and struggling with affordability.
Based on May's performance it would appear that condominium apartment sales will outperform ground-level sales, detached and semi-detached properties. May saw 1,264 condominium apartment sales in the City of Toronto. They sold at an average sale price approaching $800,000. All these apartments sold at 103 percent of their asking price and in only 15 days, only 2 days longer than it took to sell last year. The average sale price for all condominium apartments reported sold last May in the City of Toronto was only $766,462.
At the other end of the market spectrum, properties having a sale price of $2 Million or more, the decline in sales was also not as severe as the overall market. Whereas the overall market declined by almost 39 percent, year-over-year, month-over-month, sales of $2 Million plus properties only declined by a little more than 22 percent, making it clear that not all sectors of the housing market are responding similarly to rising mortgage interest rates.
Looking forward, higher mortgage interest rates will cause average sale prices to decline, but marginally, plateauing during the summer months. The greater Toronto area, and in particular the City of Toronto, has a very high employment rate, and demand remains strong. Unless the Bank of Canada raises the benchmark rate to the point that it drives the currently strong economy into recession, the lack of supply and increasing demand will keep the market strong, and unfortunately unaffordable. When inflation subsides, and the benchmark rate declines, economic conditions and the housing landscape will be very similar to the tight market that existed just before the pandemic became a factor. So what we are witnessing is a hiatus in the housing market, not a correction.
Have questions about the market, selling or buying?
Contact me any time. I'm happy to answer any questions you may have.
Prepared by Chris Kapches, LLB, President and CEO, Broker, Chestnut Park® Real Estate Limited, Brokerage.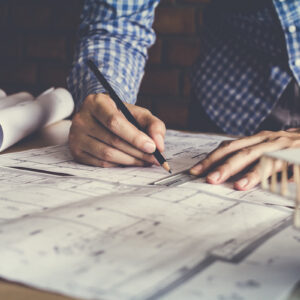 You might think to yourself that obtaining a permit is nothing but a pain in the butt and that you can probably complete the work without obtaining a permit or a bylaw officer ever finding out that you did the work. However, there are several costly issues that you could run into if you don't obtain a permit. Below are 5 reasons why you should get a building permit.
1) If you're trying to tackle the project on your own, obtaining a permit will often require a bylaw officer to visit your home. The bylaw officer will be able to provide you with helpful information in regards to what you need to do in order to comply with your local building codes.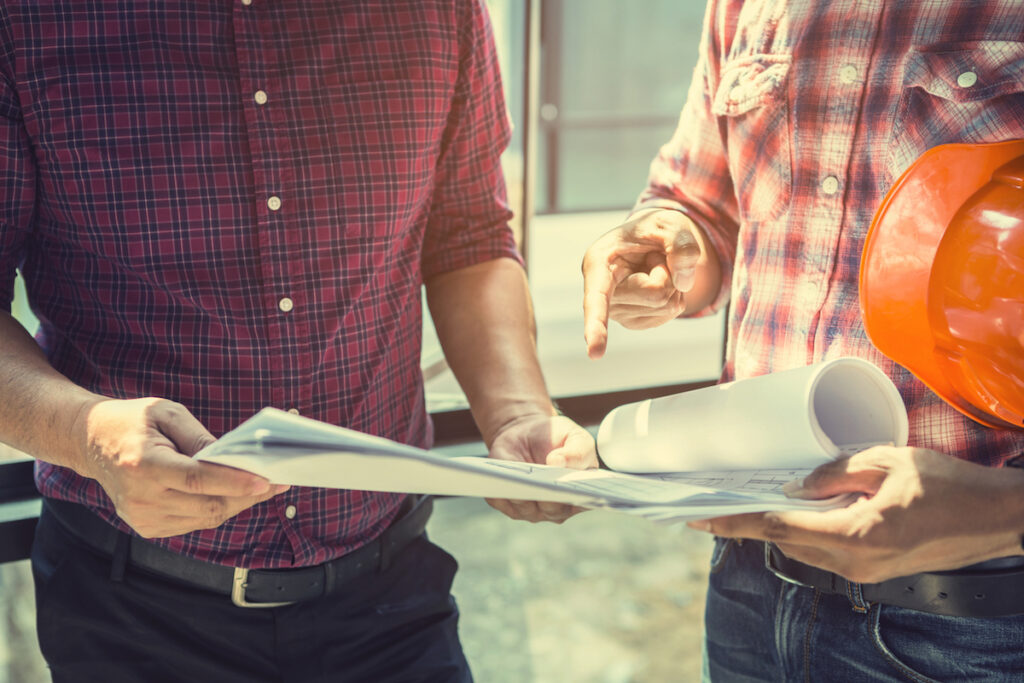 2) By following your local building code and having your work inspected throughout the process of your renovation, you will be ensuring that not only your family is safe living in the home but also future families who may end up living in your home once you have moved.
3) If you are hiring a contractor or builder to complete the work, obtaining a building permit will ensure that your contractor or builder is completing the work properly and safely and will ensure they are meeting all local building codes. If you aren't experienced in construction and aren't familiar with your local building codes, you won't be able to determine if your contractor is meeting all of the local building codes.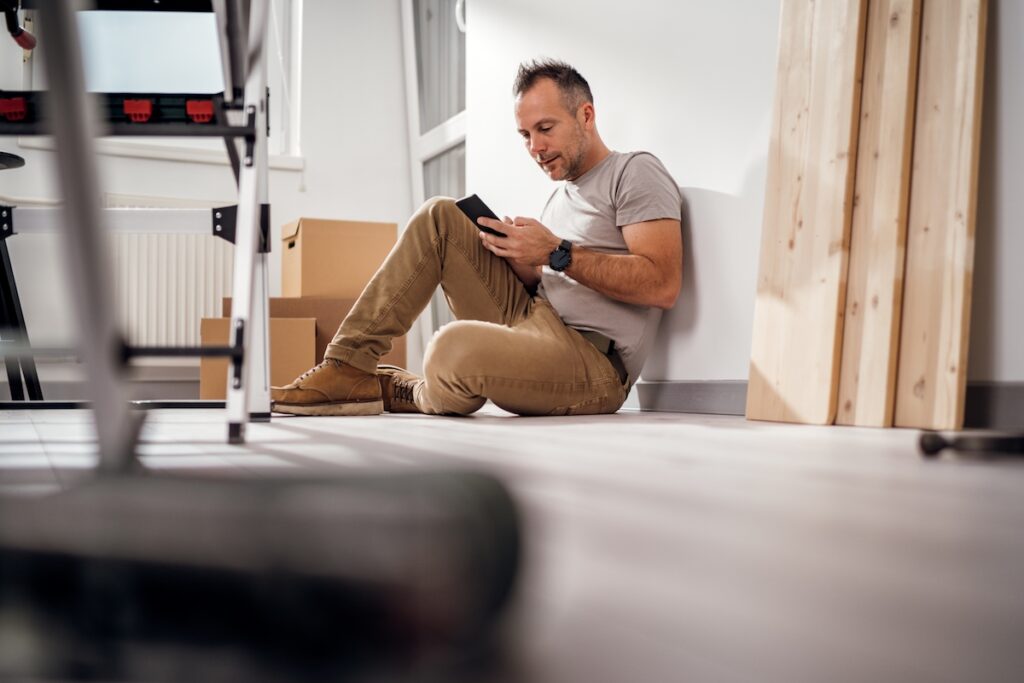 4) If you complete a project without obtaining a work permit and your home is damaged during the renovation, your insurance company may not agree to assist you with recouping your losses.
5) The TOP REASON to obtain a permit is to avoid having issues with selling your home or running into legal issues after you have sold your home. Many experienced real estate agents will include reps and warranties in their offer which state that you as the seller obtained all necessary permits to complete any projects during the time you have lived in your home. Depending on the way this rep and warranty is written, you as the seller could potentially be held responsible for the cost of any work required or any losses incurred by the buyer should they ever need to fix any work you completed without obtaining a permit. For example, if you were to add a deck to your backyard without obtaining a permit and a bylaw officer informs the buyers of your home at a later date that they need to either fix or replace the deck with one that meets the local codes, you could be held responsible for the costs associated. With the pricing of decks being easily $20K+, not obtaining a permit can be a costly mistake.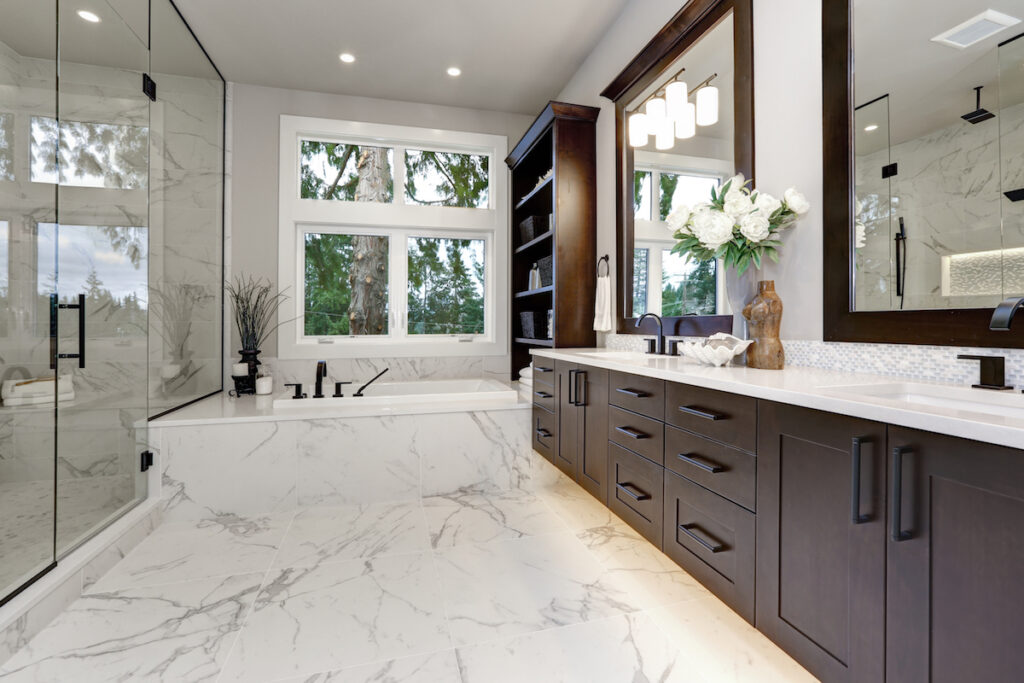 As you can see from the above, there are many valid reasons to obtain a permit for your renovation or new build project.
You can start your Toronto building permit application by clicking HERE
Are you thinking about completing upgrades to your home before you sell and are wondering which upgrades will provide you with the highest return? Feel free to contact me for a complimentary consultation. As a full-time, award winning Toronto real estate agent with over 15 years of previous experience as the owner of a design and build firm, I know what projects will provide you with the highest return when it comes time to sell.